Shanna Waterstown Acoustic Duo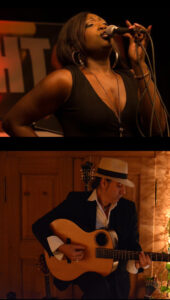 A new Project Featuring Shanna Waterstown on Vocals and Jay Gogan on Acoustic Guitar.
For booking go Here
To watch a video go Here
"The All-American Acoustic Blues Duo"Featuring the hot, silky, smooth, rough, and gritty vocals of blues singer , author, composer, performer Shanna Waterstown fromFlorida USA. An experienced Blues artist who has been touring, traveling, and building her career for years in Europe. She has writtenand composed 3 blues CDs and is considered as a Blues Diva. This acoustic project is a collaboration with the amazing, powerful, moving , master guitarist Jay Gogan from New York City. He built a solid reputation from his experiences touring and playing with different artists in the USA and Europe. These two professionals born and bred in America compose this Absolutely, exceptional All-American Acoustic Blues Duo…!!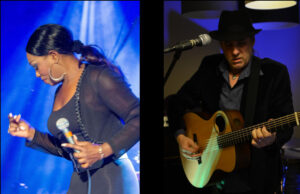 BIOGRAPHY
Shanna Waterstown was born in the Deep South in Florida USA. She grew up singing Gospel in a small Baptist church, at a time when the most popular music on the radio and in her household was "Motown Soul", "Country" and "Gospel". Her youth was tailored by many rich and different styles of music, and inspired her first creations and compositions at the age of 11 or 12. Shanna started a local group with some neighbors and experimented with recordings and cassette tapes back then.
Shanna Waterstown spent many years in New York city participating in danse , theatre and comedy musicals. This was the training field for a young and inspiring artist like herself. Caressing her Jazz favorites, dancing and singing in school and of course appearing in an off, off Broadway production. All while trying out the stage at the famous Apollo theatre for talent night!
She has toured in the US. and Europe in such countries as France, Germany, Switzerland, Belgium, Italy, Spain, Portugal, Austria, Russia, Ukraine, Poland, Czech Republic, Latvia etc… Including some of the major festivals like Blues festival Baden, Blues festival Basel, Jazz festival Ascona, Enghien Jazz, Cahors Blues festival, Leognan Jazz & Blues Hamburg Blues Night, Baltic Blues and many, many more.
While in Europe and rising in her career as a major American artist there, she has had the privilege of opening shows for James Brown, Buddy Guy, Maceo Parker, Matt Bianco, Louisiana Red, and Mud Morganfield, just to name a few.
Having spent many years writing and composing, Shanna put her own compositions in the light and she would write, compose, produce, and sing her very first Blues album "Inside My Blues" in 2008 of all original songs. Remixed in 2011 "A Real Woman" is still impressing many in the Blues world. After successfully touring with her first album, she has written and composed her second Blues album where we can once again find her particular writing style in her all original songs. Her second and third CDs will be available soon for your listening pleasure.
A powerful professional stage performer, she has made a reputation as a real "Blueswoman", Shanna is well on her way (as one of the youngest Blues Women of our decade) to conquering all the Blues fans in Europe and the US. Let yourselves be taken by a warm, sensual, powerful and authentic voice that is………. Shanna Waterstown